WALLA WALLA HAS A WINE FOR THAT
Walla Walla Valley Wine is made to be shared, and we believe life occasions, from the everyday to the extraordinary, deserve a special wine pairing. Introducing, the Walla Walla 12.
Whatever you have on your calendar – from book club to a special birthday – make sure you have something great in your wine glass.
Explore the wineries of the Walla Walla Valley and talk to the friendly tasting room experts to curate and create YOUR Walla Walla 12 pack of wine. The Walla Walla Valley is the Pacific Northwest's most comprehensive wine destination, offering over 120 wineries to visit and over 40 wine varieties to taste, and the life and wine pairing combinations are truly endless.
HOW IT WORKS
1. GRAB your Walla Walla 12 stickers, by ordering your sheet online prior to your visit, or picking up at one of our participating wineries.
2. PICK your bottles to pair with the occasions, with help from tasting room teams and Walla Walla 12 blogs.
3. SLAP the corresponding occasion sticker on your newly purchased bottles.
4. REPEAT until you've created your 12 pack.
5. SHARE your wines with friends and family at home, and with us using #WallaWalla12.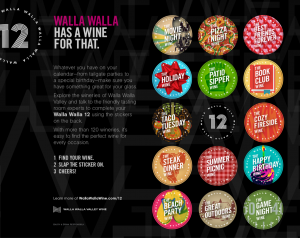 Walla Walla 12 Sticker Request
WALLA WALLA 12 BLOG
FAQ's
No, this program is free of cost to participants – all we need from you are a few contact details.

We provided extra options in case an occasion didn't quite make sense for you – feel free to collect all 14 bottles!
Participating Wineries & Businesses
Want to pick up a sticker sheet once you arrive in the Walla Walla Valley? Grab yours at these participating wineries and businesses.
Wineries
Adamant Cellars
ALUVÉ
àMaurice Cellars
Amavi Cellars
Armstrong Family Winery
Balboa Winery
Barons Winery
Basel Cellars
Bledsoe Family Winery
Brook & Bull Cellars
Browne Family Vineyards
Canvasback
Caprio Cellars
CAVU Cellars
College Cellars of Walla Walla
DAMA Wines
Dillon Cellars
Ducleaux Cellars
Dunham Cellars
Dusted Valley
Elegante Cellars
Elephant Seven
Eternal & Drink Washington State
FIGGINS
Five Star Cellars
Foundry Vineyards
Garrison Creek cellars
Gifford Hirlinger
Golden Ridge Cellars
Gramercy Cellars
Grosgrain Vineyards
Heritage by L'Ecole Wine Bar
itä wines
KINHAVEN Winery
Kontos Cellars
Lagana Cellars
L'Ecole N° 41
Locati Cellars
Long Shadows Vintners
Los Rocosos Vineyards
Maison Bleue Winery
Mansion Creek Cellars
Northstar
Otis Kenyon Wine
Pepper Bridge Winery
Proper Wines & House of Bones
Prospice Wines
REININGER Winery
Rôtie Cellars
Seven Hills Winery
Sleight of Hand Cellars
SMAK Wines
Smoky Rose Cellars
Solemn Cellars
Spring Valley Vineyard
SuLei Cellars
SYZYGY
Tempus Cellars
Tertulia Cellars
The Walls Vineyards
Three Rivers Winery
Time & Direction Wines
Tranche
TruthTeller Winery
Vital Wines
Walla Walla Vintners
Watermill Winery
Woodward Canyon Winery
Zerba Cellars
Hotels
The Barn BNB
The Finch
Hampton Inn by HILTON
Marcus Whitman Hotel & Conference Center
Other
Visit Walla Walla Information Kiosk (26 E Main Street)
Visitor Resources
Wineries List
Request a Winery Guide
Visiting Information