What is your outdoor escape? Days at the lake, camping in the woods or exploring the coastline are hallmarks of summer, and half the fun is just sitting back and taking it all in – the beautiful views, smell of the campfire, your favorite summer snack. With a glass of Walla Walla Valley rosé in your hand, it's all the more enjoyable.
Walla Walla Valley rosé is just as diverse as the great outdoors – here, you can find rosés created from over 15 different grape varieties! Rosé is what you get when you leave the skins of red wine grapes with the wine for a short time – sometimes even as short as a few hours. Even though rosé is made from the same type of grape as many of your favorite red wines, this process produces a completely different wine.
Rosé is served cool, so place a bottle (or a few) in your cooler wherever you're headed. Some of the most popular varieties for rosé in the Walla Walla Valley include Grenache, Cabernet Franc, Syrah, Sangiovese and Mourvèdre! Here are a few unique rosé types and outdoor occasion to pair them with!
Camping & Cabernet Franc Rosé
Cabernet Franc rosé goes great with grilled veggies and meats, making it the perfect wine to pack for your camping trip and enjoy alongside meals made in foil over the campfire! Pro tip: if you need to chill the bottle, find a cool creek and set it inside for a little while.
Shoreline & Sangiovese Rosé
Sangiovese rosés often contain notes of fresh citrus, watermelon and other refreshing fruits – the perfect sip to enjoy while soaking in the sun by the water! This rosé also goes well with fish dishes, so you can enjoy the local cuisine.
Sports & Syrah Rosé
A day of play calls for rosé! Lawn games, water sports or running around can take it out of you. When you kick back, open up a Syrah rosé and chill. Syrah rosés are crisp and refreshing, but they also pack a punch with notes of pomegranate and tangerine.
Mountains & Mourvèdre Rosé
A day in the mountains will often have you saying "ahh" and so will this wine. Many Mourvèdre rosés contain hints of red fruit, lime and even cucumber. At the end of a beautiful hike, open up this rosé for a refresher!
At the end of the day, any rosé style will make a wonderful pair for your outdoor adventures. As you taste around the Walla Walla Valley, ask the winery teams what grape variety they use in their rosé, and while you're at it, their favorite outdoor activity to pair with it!
---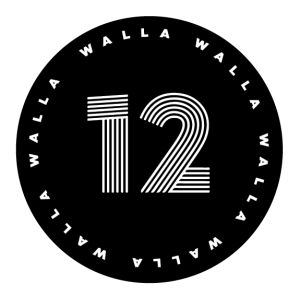 The Walla Walla 12 is a self-guided wine hunt designed to help you collect a 12-pack of wine to pair with all of life's occasions. To learn more about the Walla Walla 12 and request your stickers, visit the Walla Walla 12 homepage.