Walla Walla Valley Wineries, Businesses Raise a record-breaking $26,908.25 for local Food Bank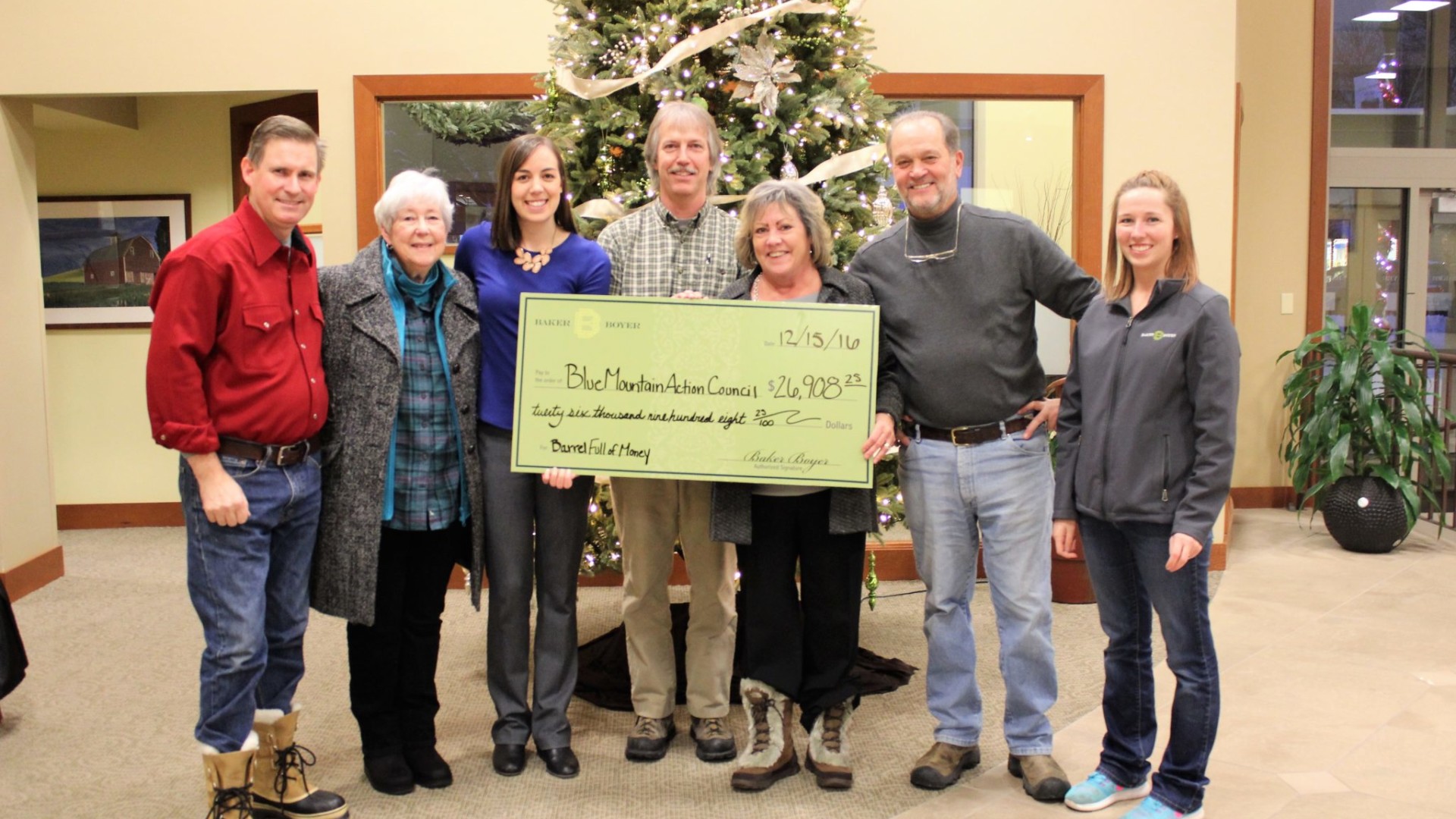 Photo: Members from the Barrel Full of Money steering committee present a check to Blue Mountain Action Council on December 15, 2016. From left to right: Trevor Dorland, Cindy Widmer, Ashley Riggs, Jeff Mathais, Kathy Covey, Philippe Michel, Kari Palmer.
WALLA WALLA, WA — The Barrel Full of Money fundraiser reached new heights this holiday season, as more than 60 Walla Walla Valley wineries, area businesses and non-profit organizations teamed up to raise a record-breaking amount of money for the Blue Mountain Action Council (BMAC) Food Bank.
Barrel Full of Money is a joint effort by Alaska Airlines, Baker Boyer Bank, Capps Broadcast Group, Columbia REA, the Marcus Whitman Hotel & Conference Center, Olive Marketplace & Café, the Walla Walla Union-Bulletin, and the Walla Walla Valley Wine Alliance and its members to raise money that will be used to buy food for those in need. During a check presentation at Baker Boyer Bank in downtown Walla Walla on Thursday, December 15, the steering committee presented a check to BMAC for $26,908.25.
"Last year was a record year and to better that by $3,000 this year is amazing," said BMAC Food Bank Director Jeff Mathias. "The money raised in this effort will provide over 140,000 meals for our neighbors in need."
The BMAC Food Bank distributes an estimated 870,000 pounds of food through pantries in Walla Walla County every year. Since its inception in 2011, the Barrel Full of Money campaign has raised more than $92,000 in cash for the local food bank, all of which has been used to purchase bulk food items and perishables.
"The Barrel Full of Money fundraiser has become crucially important to the food bank," Mathias said. "We're so grateful for our local wineries and businesses, who truly care about making a difference in this community."
Since adding the auction and wine reception at Corliss Estates in 2015, the campaign has doubled its yearly donations compared to previous years. Wine Alliance members and partners donated large format bottles and other special experiences that were sold through a silent auction, Corliss Estates provided wine for the evening, and Olive Catering served delicious appetizers.
In addition to the auction, this was the first year that the annual raffle sold-out of all 500 tickets which brought in a total of $5,000. Alaska Airlines donated two unrestricted roundtrip airline tickets to be given away as the grand prize in a raffle drawing. Second prize in the raffle was a one-night stay at Walla Walla's Marcus Whitman Hotel and an $80 dining voucher at the Marc Restaurant. Tickets sold for $10 each, and the winners were chosen Thursday during the check presentation event.
Donation canisters were also placed at wineries and other locations throughout the Walla Walla Valley at the end of October. Full-sized wine barrels — used as donation vessels — were set-up at Olive Marketplace & Café, Maple Counter, and Public House 124. Olive Marketplace & Café generously donated a portion of all sales of its seasonal pumpkin cheesecake to the fundraiser.
"This community is extremely generous with their time and money and we've proven that we can make big impact when we collaborate," said Ashley Riggs, Communications and Marketing Manager of the Walla Walla Valley Wine Alliance. "We look forward to working with the community to support the local food bank again next year."
####
About the Blue Mountain Action Council
The Blue Mountain Action Council is a community action partnership agency providing a wide array of services to help people meet their basic essential needs.  The BMAC food bank is the regional distribution center for the five local food pantries in Walla Walla County as well as the pantries in Columbia, Asotin and Garfield Counties.  More information about the BMAC and its programs is available at www.bmacww.org or by calling 509-529-4980.
####
About the Walla Walla Valley Wine Alliance
The Walla Walla Valley Wine Alliance is a non-profit wine industry membership organization whose primary mission is the marketing of the Walla Walla Valley's American Viticultural Area (AVA). The Wine Alliance functions as the leading informational resource for consumers, media and trade interested in learning more about the Valley's wine industry.
MEDIA CONTACT:
Ashley Riggs
Communications & Marketing Manager, Walla Walla Valley Wine Alliance
ashley@wallawallawine.com | (509) 526-3117 office
Back To News