Walla Walla Valley Wine Alliance and Seguin Moreau Cooperage Team Up to Fight Hunger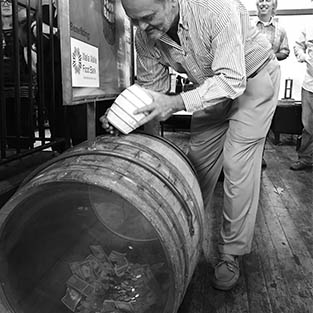 Walla Walla, WA — The Walla Walla Valley Wine Alliance is excited to announce a new partnership for the local Barrel Full of Money fundraising campaign. Seguin Moreau, famed French barrel manufacturer, will be joining the efforts to raise money for the Blue Mountain Action Council Food Bank by donating a portion of money from barrels purchased by Walla Walla Valley winemakers.
"Seguin Moreau has been part of this community for many, many years. This is a great way to give back and to show our customers that we are involved," said Chris Hansen, general manager for Seguin Moreau Napa Cooperage.
Walla Walla Valley winemakers buy dozens of French oak barrels from regarded Seguin Moreau as part of their winemaking program.
This year, thanks to the partnership which was developed by local businessman Philippe Michel, $5.00 of the first 20 barrels purchased by each Walla Walla Valley winemaker from Seguin Moreau will be donated to the Walla Walla Valley Wine Alliance's Barrel Full of Money fundraiser for the Blue Mountain Action Council.
A final check will be presented to the Walla Walla Valley Wine Alliance's total contribution at the fundraiser to be held this year in December.
"We are so jazzed to see this community fundraiser grow each year, and are deeply humbled by the teaming of local businesses to help those in need. That is what makes this fundraiser so special," commented Jeff Mathias of Blue Mountain Action Council.
Barrel Full of Money is a joint effort by Alaska Airlines, Baker Boyer Bank, Capps Broadcast Group, Columbia REA, the Marcus Whitman Hotel & Conference Center, Olive Marketplace & Café, the Walla Walla Union-Bulletin, and the Walla Walla Valley Wine Alliance and its members to raise money that will be used by Blue Mountain Action Council to buy food for locals in need. The BMAC Food Bank distributes an estimated 870,000 pounds of food through pantries in Walla Walla County every year.
###
About the Blue Mountain Action Council
The Blue Mountain Action Council is a community action partnership agency providing a wide array of services to help people meet their basic essential needs.  The BMAC food bank is the regional distribution center for the five local food pantries in Walla Walla County as well as the pantries in Columbia, Asotin and Garfield Counties.  More information about the BMAC and its programs is available at www.bmacww.org or by calling 509-529-4980.
###
About Seguin Moreau 
Set up in 1870 and 1838 respectively, the Seguin and Moreau cooperages were joined in 1972. The cooperage builds on nearly two centuries of tradition and more than three decades of pioneering oenological research, consistently delivering top-quality oak for wineries' barrel programs. In 1994, the company established the Seguin Moreau Napa Cooperage to support United States wineries and bring cooperage operations closer to local winemakers. Classically trained in France and Scotland, Seguin Moreau coopers manufacture barrels ranging from 225L Bordeaux and Burgundy Export to 500L barrels to casks and tanks.
###
About the Walla Walla Valley Wine Alliance
The Walla Walla Valley Wine Alliance is a non-profit wine industry membership organization whose primary mission is the marketing of the Walla Walla Valley's American Viticultural Area (AVA). The Wine Alliance functions as the leading informational resource for consumers, media and trade interested in learning more about the Valley's wine industry.
Media Contacts:
Heather Unwin
Executive Director, Walla Walla Valley Wine Alliance
heather.unwin@wallawallawine.com | (509) 526-3117 office
Ashley Riggs
Communications & Marketing Manager, Walla Walla Valley Wine Alliance
ashley@wallawallawine.com | (509) 526-3117 office
Back To News