Third Annual Reveal Walla Walla Valley Wine Futures Auction Increases Revenue, Attendance and Gives Back to Local Community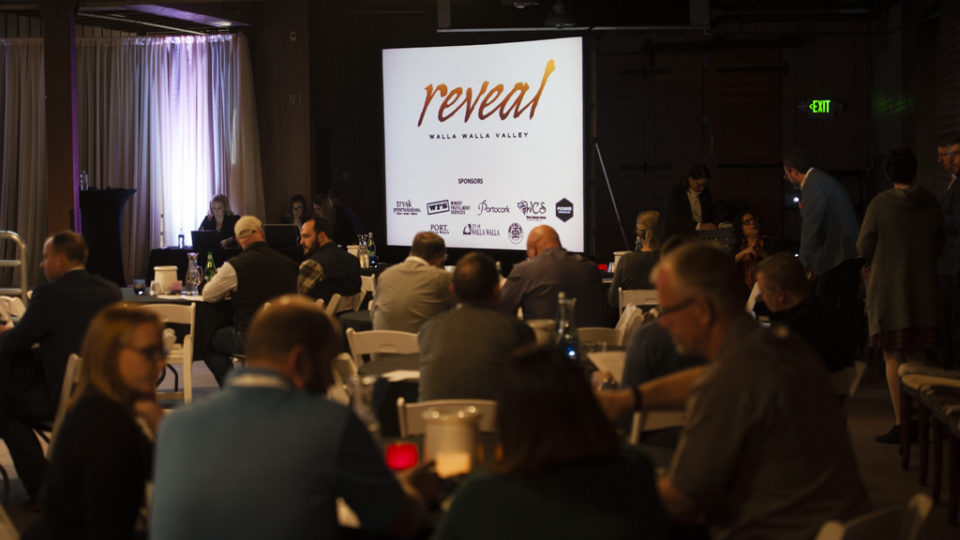 Walla Walla, WA (April 17, 2018) — Reveal Walla Walla Valley, an annual wine futures auction for the wine trade and private collectors raised an unprecedented $92,900 on Monday, April 16, 2018. Reveal provides the perfect opportunity to showcase the camaraderie, creativity and commitment that founded the Walla Walla Valley wine industry; the 2018 auction featured 28 one-of-a-kind, small-lot wines from the Walla Walla Valley American Viticulture Area (AVA) and the region's sub AVA "The Rocks District of Milton-Freewater."
Over the course of two days, the passionate attendees of Reveal took full advantage to meet the winemakers and taste the truly unique wines being produced in the Walla Walla Valley. Upon arrival on Sunday, April 15, guests were whisked away to state-of-the-art Pepper Bridge Winery for a library tasting and family style dinner set in the wine production space amongst panoramic vineyard views and a dramatic spring sky. Adjustments to the Monday, April 16 schedule preserved momentum as bidders sampled through all 28 auction lot wines within the exquisite Corliss Estate tasting room before advancing into the production facility for the auction.
Presided over by renowned auctioneer Ursula Hermacinski, the auction room was electric with excitement that continued to build as active paddles welcomed each lot with renewed energy. Walla Walla Valley winemakers looked on and delighted in friendly bidding wars and escalating prices, resulting in an average 17 percent lot increase over the 2017 auction. Winning bidders were congratulated with a celebratory toast following the final gavel strike.
The 2018 auction saw an increase of nearly 30 percent in attendees hailing from Canada and throughout the United States. The top three lots sold were Leonetti Cellar, Doubleback and Corliss Estate for $8,000, $6,900 and $5,000 respectively.
Thanks to the continued success of Reveal, a portion of the 2018 proceeds will be devoted to the Walla Walla Public School District's "Adopt a Blue Devil" program. In partnership with United Way of Walla Walla County, the scholarship program aims to help eliminate financial barriers for students who lack the financial means to participate in school-sponsored programs, clubs, athletic or academic experiences.
The 2019
Reveal Walla Walla Valley Auction
will be held April 14-15, 2019. Attendees are invite-only licensed wine buyers and private collectors. For more information or to request an invitation, visit
RevealWallaWalla.com
.
Sponsors for Reveal Walla Walla Valley include Trysk Print Solutions, Pioneer Packaging, Portocork, Winery Fulfillment Services, Winery Compliance Services, the City of Walla Walla, Walla Walla County and the Port of Walla Walla.
###
About the Walla Walla Valley Wine Alliance
The Walla Walla Valley Wine Alliance is a non-profit wine industry membership organization whose primary mission is to build an internationally acclaimed Walla Walla Valley wine brand among consumers, media, and trade by providing marketing programs on behalf of member wineries, vineyards, and partners.  The Wine Alliance functions as the leading informational resource for consumers, media and trade interested in learning more about the Valley's wine industry.
Media Contacts:
Liz Knapke
Marketing Manager, Walla Walla Valley Wine Alliance
liz@wallawallawine.com | (509) 526-3117 office
High Resolution Images Available Upon Request
Ashley Riggs
Chief Operating Officer, Walla Walla Valley Wine Alliance
ashley@wallawallawine.com | (509) 526-3117 office
Back To News