Syrahs Seduce at Fifth Annual Celebrate Walla Walla Valley Wine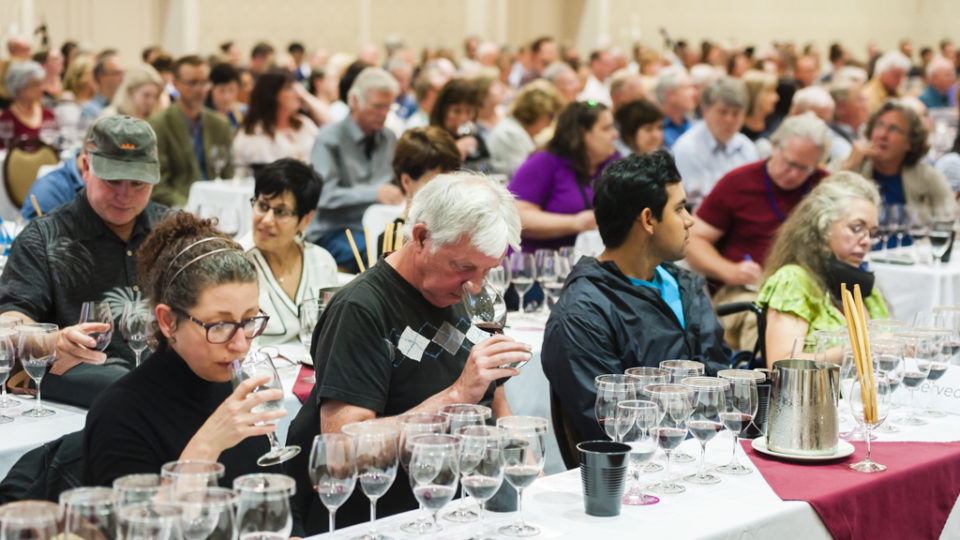 WALLA WALLA, WA — Celebrate Walla Walla Valley Wine, a social and educational global wine event, sold-out for the second year in a row. Guests traveled from more than 20 states and provinces throughout the United States and Canada. Nearly 600 attended special tastings of rare vintage wines, educational seminars and talks, and one-of-a-kind winemaker dinners during the weekend's three event-filled days (June 15-17, 2017).
Approximately 285 wines were poured by 56 wineries, most of which were Syrahs that expressed the multifaceted terroir of the Walla Walla Valley American Viticultural Area (AVA).
The Friday morning kick-off event, with Wine & Spirits Senior Correspondent, Patrick Comiskey and Master Sommelier/Master of Wine Doug Frost, was a lively, at times irreverent, overview of Syrah at the historic Gesa Power House Theatre in downtown Walla Walla.
Place took precedence at afternoon Winemaker Panel Presentation & Tasting which was also conducted by Comiskey at the Marcus Whitman Hotel and Conference Center. Guests listened to and tasted wines with the seven winemaker panelists from the Walla Walla Valley, Napa Valley, Yarra Valley, Casablanca Valley, and Cornas. Dr. Kevin Pogue, Geologist at Walla Walla's Whitman College, gave a primer on each of these leading wine regions' growing conditions, winemaking styles, and vineyards.
Consumer interest in Syrah is resurgent. Comiskey noted an uptick of interest in Syrah since the last time Celebrate Walla Walla Valley Wine featured this beguiling grape variety. He urged winemakers let
Syrah be its wild self, keep it interesting and expressive of the place from
which it grows. Intense focus was also given to Syrahs coming from The Rocks District of Milton-Freewater, the newest Walla Walla Valley sub-AVA, throughout the Celebrate weekend of events.
Celebrate focuses on a different wine varietal each year (a rotation of Syrah, Merlot and Cabernet Sauvignon), comparing the similarities and differences of the Walla Walla Valley with the world's leading wine regions. Celebrate Walla Walla Valley Wine — The World of Merlot will be held June 14-16, 2018. Tickets and more information will be posted next Fall at
www.CelebrateWallaWalla.com
.
****
Celebrate Walla Walla Valley Wine — The World of Syrah was made possible by the following sponsors:
HEADLINE
• Banner Bank
• Trysk Print Solutions
• Wine & Spirits Magazine
GOLD
• Columbia REA
• Moss Adams
SILVER
• Andrae's Kitchen
• Bella Fortuna Events & Tours
• Black Tie Wine Tours
• Dream Ride Charters & Tours
• ETS Laboratories
• Gesa Power House Theatre
• Olive Marketplace & Café
• Pacific Power
• The Marcus Whitman Hotel
MEDIA
• KVEW
• KXLY
• Sip Northwest Magazine
• The Seattle Times
• Walla Walla Union-Bulletin
COMMUNITY
• City of Walla Walla
• Port of Walla Walla
• Walla Walla County
BANNER SPONSOR
• WCP Solutions
****
About the Walla Walla Valley Wine Alliance
The Walla Walla Valley Wine Alliance is a non-profit wine industry membership organization whose primary mission is the marketing of the Walla Walla Valley's American Viticultural Area (AVA). The Wine Alliance functions as the leading informational resource for consumers, media and trade interested in learning more about the Valley's wine industry.
Media Contacts:
Heather Unwin
Executive Director, Walla Walla Valley Wine Alliance
Ashley Riggs
*Contact
Ashley
for high resolution jpegs available for your use*
Back To News