Reveal Walla Walla Valley Wine Futures Auction Evolves for 2018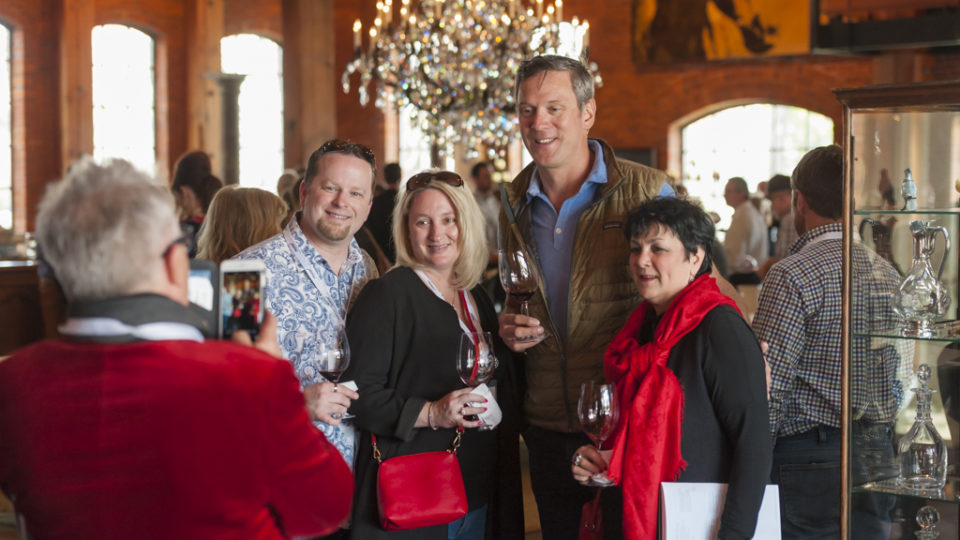 Walla Walla, WA (Dec. 21, 2017)— The Walla Walla Valley Wine Alliance is thrilled to announce the return of Reveal Walla Walla Valley Wine futures auction on April 16, 2018. This intimate, invitation-only auction features wholly unique, small-lot wines from the Walla Walla Valley American Viticulture Area (AVA) and the region's sub AVA "The Rocks District of Milton-Freewater."
"The response to Reveal in 2017 was nothing short of extraordinary," said Amy Alvarez-Wampfler, Reveal committee chair and winemaker for Abeja. "Reveal's 30% increase from 2016 in average lot price quickly let us know that the wine world views our wines as highly desirable and as a great investment."
After last year's stunning growth, wineries planned for the 2018 auction with new and innovative offerings, including a collaborative lot between Leonetti and student winemakers from College Cellars. Additionally, two wineries, Cayuse Vineyards and Sleight of Hand Cellars, will each put forward one-of-kind 30-magnum auction lots.
Auctioneer and former Christie's wine auction specialist Ursula Hemacinski will oversee the futures bidding. "I'm excited by the wineries' collective willingness to create these unique wines, and host their friends from the trade to showcase the very best of Walla Walla. The event is not only an incredible educational opportunity, but an incredible buying opportunity," said Hemacinski.
This year's event begins with an exciting, registrant-only event on Sunday night, April 15, at Pepper Bridge Winery. Beginning Monday morning, April 16, registrants will start with a barrel-sample tasting at the exquisite Corliss Estate winery in historic downtown Walla Walla. The auction will then begin promptly at 11:00 a.m.. Winning bidders and winemakers will join the participating wineries for a Champagne reception directly following the auction.
Proceeds from Reveal Walla Walla Valley Wine will benefit the Walla Walla Valley Wine Alliance, a 501c6 non-profit organization. Based on the continuing success of Reveal, in 2018 a portion of the proceeds will be devoted to the Walla Walla Public School District's "Adopt a Blue Devil" program. In partnership with United Way of Walla Walla County, the scholarship program aims to help eliminate financial barriers for students who lack the financial means to participate in school-sponsored programs, clubs, athletic or academic experiences. Such involvement has been shown to increase student engagement, school attendance, and overall success.
Sponsors for Reveal include Trysk Print Solutions, Pioneer Packaging, Portocork, Americold Storage, Winery Compliance Services, the City of Walla Walla, Walla Walla County, and the Port of Walla Walla.
Reveal Walla Walla Valley Wine is an invitation-only event for members of the wine trade. In a new legal development, Washington State laws governing non-profit wine auctions were revised in 2017. Private collectors, who have been specifically invited by the Walla Walla Valley Wine Alliance, may now register to attend and bid alongside licensed members of the wine trade.
To find more information regarding travel, lodging and invitations, contact the Walla Walla Valley Wine Alliance at info@wallawallawine.com.
###
About the Walla Walla Valley Wine Alliance
The Walla Walla Valley Wine Alliance is a non-profit wine industry membership organization whose primary mission is the marketing of the Walla Walla Valley's American Viticultural Area (AVA). The Wine Alliance functions as the leading informational resource for consumers, media and trade interested in learning more about the Valley's wine industry.
Media Contact: 
Ashley Riggs
Chief Operating Officer, Walla Walla Valley Wine Alliance
ashley@wallawallawine.com | (509) 526-3117 office
High resolution images available upon request.
Back To News