Merlot Proves Its Skin Is Thicker Than We Think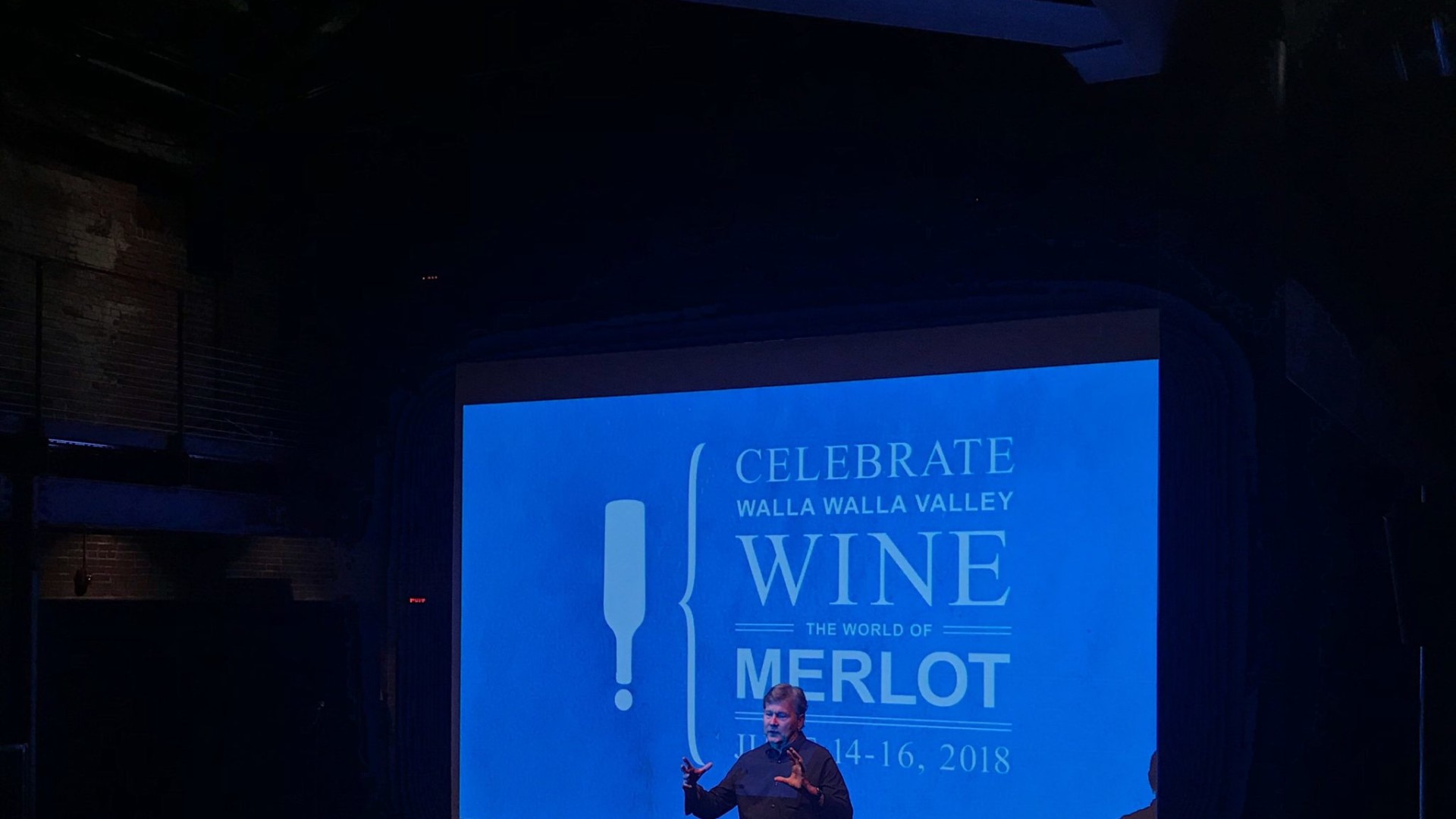 WALLA WALLA, WA — Celebrate Walla Walla Valley Wine, a
social and educational global wine event welcomed its sixth year with open arms
and a formidable special guest. Rex
Pickett, author of the wine-centric novel Sideways, which was later adapted into the Oscar-winning film of
the same name, joined the Walla Walla Valley wine industry along with
winemakers from California and Bordeaux to navigate guests through an
immersive, no holds barred Merlot experience.
Visitors from more than 20 states and
provinces throughout the United States and Canada took full advantage of the
wide spectrum of Celebrate events
ranging from special tastings of rare vintage wines, educational seminars and
talks, and one-of-a-kind winemaker dinners during the weekend's three event-filled
days (June 14-16, 2018). Approximately 175 wines were poured by 58 wineries,
most of which were Merlots that embodied the expressive terroir of the Walla
Walla Valley American Viticultural Area (AVA).
The Friday morning World of Merlot: Kick-Off Event opened with a lively salon
celebrating Merlot's global significance and importance in the Walla Walla
Valley presented through scientific fact and laugh out loud dialogue by Tim Donahue, Director of Winemaking at
Walla Walla Community College Institute for Enology and Viticulture. Donahue left Merlot on the stage as an
elegant, superhero willing to "do it all, and do it all without complaint." Pickett entered stage left to set the
record straight on the varietal, sharing the series of personal and
professional events that led to the unintentional destruction of the Merlot
market triggered by the Sideways film,
known as the Sideways Effect. Pickett expressed his admiration for
Walla Walla Valley Merlots and their purity before he asked for clemency from
the sold-out crowd, which in turn evoked a shout of forgiveness from the
audience and a bond that can only be attributed to sharing emotion and the human
experience. All in all, the crowd left the Gesa Power House Theatre fully
enlightened with a better understanding of the quiet strength of Merlot.
Guests delved deeper into Merlot during
the Saturday morning Wine Panel
Presentations & Tastings hosted by local winemaker, Ashley Trout of Brook & Bull
Cellars and Vital Wines at the Marcus Whitman Hotel and Conference Center. Trout led a frank discussion with six winemaker
& winegrower panelists from the Walla Walla Valley, Napa Valley, Sonoma
Valley and Bordeaux region of France as guests listened in and sampled wines.
Attributed to the Sideways Effect, consumer interest in Merlot still carries a stigma
over a decade later. Trout opened
with thanking the crowd for attending and "helping kick Merlot out of its underdog
status."  Throughout the morning, as panelists
fielded questions ranging from their personal experiences with growing the
varietal to engaging with customers in the tasting room that refuse to sample
"the Merlot," one thing was resoundingly clear — the panelists hold Merlot in
the highest regard.
Walla Walla Valley winegrower Sadie Drury of Seven Hills Vineyard
expressed sound optimism in Merlot's "bright future" by seeing a "consumer shift
towards more balanced wines, Merlot is that perfect approachable wine."
Additional highlights from the celebration include Emmanuelle d'Aligny Fulchi, Technical Director with Château
Angelus/Château Bellevue reminding the crowd that in the Bordeaux region of
France, there is no Sideways Effect
and Jeff Bundschu of Gundlach
Bundschu in Sonoma Valley wisely concluding that "good wines always win, no
matter the varietal." When asked her greatest Merlot epiphany, Sally Johnson, winemaker from Napa
Valley's Pride Mountain Vineyards stated, "This trip to Walla Walla has been an
eye opener for me. The wines here are so good … beautiful, stunning,
world-class — they're amazing."
We recommend trying the Merlot, you'll
most likely be surprised.
Celebrate focuses on a
different wine varietal each year (a rotation of Merlot, Cabernet Sauvignon and
Syrah), comparing and sharing the similarities and differences of the Walla
Walla Valley with the world's leading wine regions. Celebrate Walla Walla Valley Wine — The World of Cabernet will be
held June 13-15, 2019. Tickets and more information will be posted next Fall at
www.CelebrateWallaWalla.com.
Celebrate Walla Walla Valley Wine
— The World of
Merlot was made possible by the following sponsors

HEADLINE
• Banner Bank
• Trysk Print Solutions
• Wine & Spirits Magazine
GOLD
• Moss Adams
SILVER
• Andrae's Kitchen
• Black Tie Wine Tours
• Columbia REA
• Gesa Power House Theatre
• Olive Catering 
• The Marcus Whitman Hotel & Conference Center 
MEDIA
• KAPP/KVEW
• KXLY
• Sip Northwest Magazine
• The Seattle Times
• Walla Walla Union-Bulletin
COMMUNITY
• City of Walla Walla
• Port of Walla Walla
• Walla Walla County
KICK-OFF SPONSOR
• WCP Solutions
###
About Celebrate Walla Walla Valley
Formed by the Walla Walla Valley Wine
Alliance in 2013, Celebrate Walla Walla Valley Wine is the region's signature
wine event held annually in June. The event series is structured to showcase a
different wine varietal each year, historically focusing on Cabernet Sauvignon,
Syrah, and Merlot. Over the course of three days, the events demonstrate how
wines can vary among the world's leading regions resulting from different
growing conditions, winemaking styles, and vineyards through special tastings
of rare vintage wines, educational seminars, and one-of-a-kind winemaker
dinners. 
About the Walla Walla Valley Wine Alliance
The Walla Walla Valley Wine Alliance
is a non-profit wine industry membership organization whose primary mission is
to build an internationally acclaimed Walla Walla Valley wine brand among
consumers, media, and trade by providing marketing programs on behalf of member
wineries, vineyards, and partners.  The
Wine Alliance functions as the leading informational resource for consumers,
media and trade interested in learning more about the Valley's wine industry
Media Contacts:
Liz Knapke
Marketing Manager, Walla Walla Valley
Wine Alliance
liz@wallawallawine.com  | (509) 526-3117 office
High Resolution Images Available Upon Request
Ashley Riggs
Chief Operating Officer, Walla Walla
Valley Wine Alliance
ashley@wallawallawine.com | (509)
526-3117 office
Back To News