Best of WWander: Dining
Despite being a small town, the food scene in the Walla Walla Valley rivals the best of them.  With everything from James Beard nominated restaurants to acclaimed hidden culinary gems, there is a flavor for everyone. Behind the exciting food crafted in kitchens across the Valley is the bounty of seasonal agriculture in the region – grains, honey, cheese, meats, fruits and vegetables are all produced here. When it comes to wine, there is nothing quite like the simple pleasure of enjoying a glass alongside a delicious dish.
These 10 spots were the most recommend eateries (and non-wine "drinkeries") over the last 3 years of winemaker curated itineraries in our WWander series.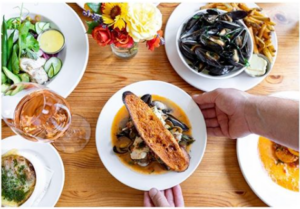 For fine French cuisine, look no further than Brasserie Four. Alongside their amazing dishes, you will find local art and a wall of fine wine to choose from. Brasserie Four is located on Main Street in downtown Walla Walla. It's a wonderful spot to enjoy a laid back dinner after a day of wine tasting.
---
Many locals will tell you – there is no better way to start your day than with a coffee and pastry from the Colville Street Patisserie in Downtown Walla Walla. Since opening in 2005, the Patisserie has been providing Walla Walla with French pastries, cakes and desserts, along with great coffee and even gelato! Grab a gougere or a danish, and your choice of morning beverage to take to go as you wander around downtown.
---
At Bacon & Eggs in downtown Walla Walla, you can start your day with bacon and eggs and so much more. This is one of the towns most popular breakfast spots. They offer classic breakfasts and special creations, like crab cakes benedict and tofu stir fry. Bacon & Eggs is also well known for their breakfast cocktails. The Morning Paper, a blend of gin, St. Germain, grapefruit juice and prosecco, is a winemaker favorite.
---
If you need a palate cleanser and a snack, Quirk Brewing is a local gem. Located in the Airport District, this brewery is located within a 2 minute drive to 15 wineries, making it a great stop to break up a day of wine tasting. Quirk Brewing is known for its eclectic and ever-changing tap list. Agapas Mexican Cravings, an authentic Mexican food truck, is usually parked out front serving up delicious tacos and more to pair with your beers.
---
In the Airport District, you'll also find the Walla Walla Roastery – home to locally roasted coffee and more. The Roastery sources their coffee from the finest farms all over the world. They offer house-made espresso, and a variety of other drinks, as well as coffee beans to take home and brew yourself.
---
If you want cheese, meat or a variety of other treats to pair with the wine your buying, stop in to Cuigini Italian Imports & Deli. Owners of this Italian deli trace their lineage back to family members who immigrated to the Walla Walla Valley from Southern Italy in the early 1900s. In addition to picking up meats and cheeses here, you can order lunch, or grab pastas to take and bake.
---
This hidden gem, Dora's Deli, is a winemaker favorite for tacos, especially during harvest. This aucthentic Mexican deli is located within a bait and tackle shop on the Westside of town. It is a perfect location to pick up some tacos or chimichangas before going wine tasting in the Westside district!
---
For authentic Italian dishes and some of the finest cocktails around, make a dinner reservation at Passatempo Taverna. They specialize in pasta made by hand in house. Cocktails are inspired by mixologist Jim German, who was well known for Jimgermanbar in Waitsburg. Their wine list is extensive, and you can enjoy local wines alongside incredible Italian creations.
---
Since 2007, owners Island & Chris Ainsworth have been crafting Meditrranean fare in the heart of Washington wine country. Their dishes often utilize local ingredients to bring the flavors of the world to your table with flatbreads, pastas and much more. Located within a refurbished historic building in downtown Walla Walla, the high class setting pairs perfectly with world class food.
---
Andrae's Kitchen is a restaurant in a gas station specializing in smoked meats and offering everything from tacos to gyros, burgers to pho. Chef Andrae Bopp and his culinary creations have been featured in the New York Times, Travel and Leisure Magazine, Food & Wine, USA Today and more. If you are looking to enjoy a picnic lunch at a winery, it's a great place to pick up eats to go!