All-Star Winemaker Panel and Guest Speakers announced for Celebrate Walla Walla Valley Wine — The World of Merlot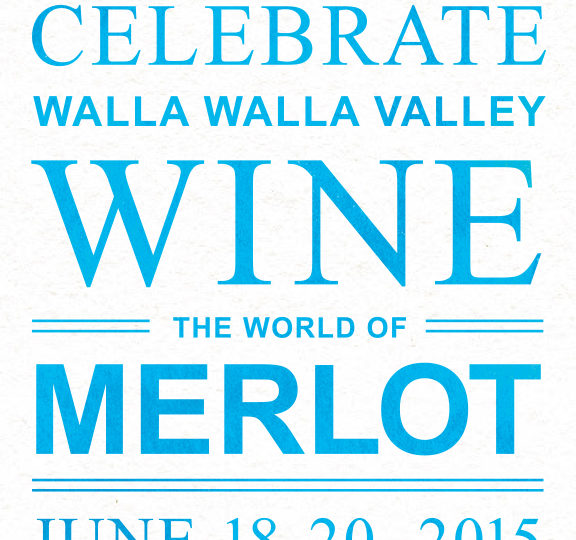 WALLA WALLA, WA — More than 60 Walla Walla Valley winemakers, guest winemakers from three of the world's leading wine regions, two acclaimed wine writers and a master sommelier will headline Celebrate Walla Walla Valley Wine — The World of Merlot, to be held in Walla Walla, Washington June 18-20, 2015. Now in its third year, Celebrate Walla Walla Valley Wine is gaining attention as one of the premier wine events in the country.
The 2015 Celebrate Walla Walla Valley Wine event will begin the evening of Thursday, June 18 with a vintage pour tasting at Dunham Cellars featuring a limited number of Walla Walla Valley wines from the 2008 vintage or earlier. The following morning of June 19, internationally-known wine critic Stephen Tanzer and Master Sommelier Fred Dame will serve as keynote speakers for a kick-off session at the historic Gesa Power House Theatre in downtown Walla Walla.  Tanzer, the Editor-in-Chief at Vinous, has been one of the most respected wine critics in the world since the launch of his wine publication, the International Wine Cellar, in 1985.  Dame was the first American to pass all three parts of the Master Sommelier Examination in one year, and also the first American to have served as President of the Court of Master Sommeliers Worldwide.
"The Celebrate event continues to gain momentum every year, and we're thrilled to have such esteemed individuals serve as keynote speakers this year," said Duane Wollmuth, Executive Director of the Walla Walla Valley Wine Alliance. "Stephen Tanzer and Fred Dame are highly respected in the wine community, and we believe they'll help elevate the Celebrate event to an even higher level."
Following the kick-off event on Friday, Sean Sullivan, contributing editor to Wine Enthusiast and founder of Washington Wine Report, will moderate an afternoon panel made up of winemakers from the Walla Walla Valley, the Bordeaux region of France, Napa Valley, California and Tuscany, Italy. Participants will have a rare opportunity to compare and contrast the growing conditions and wine styles from each region, and taste Merlot from all six producers:
• Marty Clubb, L'Ecole No. 41 | Walla Walla Valley
• Casey McClellan, Seven Hills Winery | Walla Walla Valley
• David "Merf" Merfeld, Northstar | Walla Walla Valley
• Renée Ary, Duckhorn Vineyards | Napa Valley, California
• Vincent Lignac, Château Guadet | Bordeaux, France
• Virginie Saverys, Avignonesi | Tuscany, Italy
Celebrate Walla Walla Valley Wine focuses on a different wine varietal each year, comparing the similarities and differences of the Walla Walla Valley with other leading wine regions around the world. Last year, Walla Walla Valley winemakers were joined by a group of international Syrah winemakers for a lively, engaging panel presentation. The 2013 panel featured Cabernet Sauvignon winemakers from both the Walla Walla Valley and the Napa Valley.
"This year's panel offers incredible diversity, giving participants a truly unique opportunity to learn about and taste Merlot made by prominent winemakers from around the world," said Wollmuth.
On Friday evening, participants will be invited to take part in a special tasting of Merlot and Bordeaux-style white wines from more than 60 Walla Walla Valley wineries during a dinner featuring a prominent chef line-up to be announced soon. The organized events will conclude on Saturday, June 20 with a series of winemaker dinners around the Valley.
SCHEDULE OF EVENTS
Thursday, June 18, 2015
Vintage Pour | Dunham Cellars | 4:30-6:30 p.m.
Friday, June 19, 2015
The World of Merlot: Kick-off Event | Gesa Power House Theater | 8:30-10:00 a.m.
Winemaker Panel Presentations and Tastings | Marcus Whitman Hotel | 3:30-5:30 p.m.
Merlot Wine Tasting & Dinner | Reid Center at Whitman College | 6:00-8:30 p.m.
Saturday, June 20, 2015
Winemaker Dinners around the Walla Walla Valley | 6:00-9:00 p.m.
Tickets go on sale February 1 at www.wallawallawine.com/celebrate.
Back To News