Walla Walla Valley Wine Announces New Leadership and Direction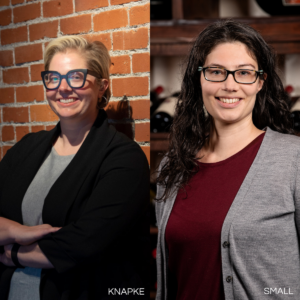 WALLA WALLA, WA (June 28, 2022) – Liz Knapke will lead Walla Walla Valley Wine as the next Executive Director of the wine industry membership and marketing agency. Knapke moves into the position held since August 2019 by Robert Hansen, who retires September 2.
Her promotion from Director of Communications & Marketing is one piece of a succession plan that includes several staffing changes, a new Board President and execution of a three-year strategic plan that launched in May.
"Liz has done an outstanding job during her tenure with the organization, continuously improving and innovating the Walla Walla Valley Wine brand and subsequent marketing programs that garner acclaim for the region's world-class vineyards and wines," said newly appointed Board President Jordan Small, general manager and co-owner of Woodward Canyon.
"Liz's contagious energy to facilitate and foster authentic communication and collaboration within the Walla Walla Valley wine community is second only to her commitment to the Valley's success. With her leadership and the Board's strategic oversight, we look forward to executing our robust strategic plan and growing the Walla Walla Valley's reputation in the global wine community."
A graduate of The Ohio State University with a Bachelor of Science in Hospitality Management, Knapke joined Walla Walla Valley Wine in January 2018. Prior to that, she managed events and sponsorships for Tyson Foods and worked as Director of Sales and Business Development for the American Culinary Federation.
As part of the transition, Shelby Pryor will move from her current position as Communications & Marketing Coordinator to Communications & Marketing Manager. She will manage consumer marketing programs and public relations, including the organization's social media platforms and its signature annual wine event, Celebrate Walla Walla Valley Wine.
Walla Walla Valley Wine also welcomes Tracy Parmer as Development Manager in early August. Parmer, who previously worked as Fund Development & Marketing Director for Blue Mountain Action Council, will manage trade marketing programs, revenue and membership development with a focus on relationships with retailers and restaurants. She will also lead coordination of the organization's annual auction fundraiser Reveal Walla Walla Valley.
"We are thrilled to welcome Tracy Parmer and embrace her unique qualifications to further diversify and strengthen Team #WallaWallaWine," Knapke said. "Shelby Pryor and I started (at Walla Walla Valley Wine) together in 2018 and have tactically built and tailored our skill sets to serve the industry. We have accomplished many things and look forward to relentlessly pursuing marketing excellence on behalf of our member wineries, vineyards and partners."
The newly appointed Executive Committee for the organization includes Small, Vice President Jason Magnaghi, Figgins Family Wine Estates; Treasurer Eric McKibben, Amavi Cellars and Pepper Bridge Winery; and Secretary Constance Savage, L'Ecole No 41. The extended Board of Directors includes Katie Davis, Corliss & Tranche; Kai Itämeri, Garrison Creek Cellars; Jason Fox, Lagana Cellars; Katie Sadler, Tamarack Cellars; Jesús Martínez Bujanda Mora, Valdemar Cellars.
The board and staff represent 90 winery members, 21 vineyard members and 62 industry and community partners with a mission to build an internationally acclaimed Walla Walla Valley Wine brand among consumers, trade and media through executing collaborative marketing programs. The operation's strategic vision is intended to engage members as active participants in the planning, execution and evaluation of the organization's programs.
Over the next three years, the organization is poised to increase member value, further establish organizational sustainability and strengthen the regional identity of the Walla Walla Valley. In cooperation with the Board of Directors and membership, Knapke's team will execute data-driven wine brand and destination marketing programs that uphold the organization's continual effort to honor the distinct culture of collaboration and commitment to excellence vital to the Valley's success.
###
About Walla Walla Valley Wine
Walla Walla Valley Wine is a nonprofit wine industry membership organization whose primary mission is to build an internationally acclaimed Walla Walla Valley wine brand among consumers, media, and trade by executing marketing programs in collaboration with member wineries, vineyards, and partners.  Walla Walla Valley Wine functions as the leading informational resource for consumers, media and trade interested in learning more about the Valley's wine industry.
Media Contacts
Liz Knapke
Communications & Marketing Director, Walla Walla Valley Wine
liz@wallawallawine.com | (509) 526-3117 office
High Resolution Images Available Upon Request
Shelby Pryor
Communications & Marketing Manager, Walla Walla Valley Wine
shelby@wallawallawine.com | (509) 526-3117 office
Back To News